Air Disinfection UVELIOS 100
The UVELIOS® 100 wall mounted unit is used for effective air disinfection in rooms that are not connected to a central air conditioning system. Due to its closed construction, the UVELIOS® 100 can be used in rooms where people are constantly present.
The device is equipped with two high power UVC lamps and is suitable for disinfecting rooms with an air volume of up to 100 m³. The integrated fans, for active air circulation promote a high air volume with minimum noise emission.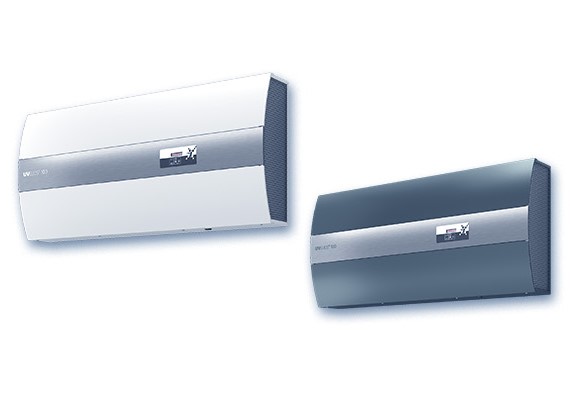 Air disinfection system for closed rooms
Areas of prevention
Office and production rooms
Schools
Preschools
Public institutions
Packaging material storage
Waiting rooms
Laboratories
Patient rooms in hospitals
Execution
Compact design and easy installation
High-quality lamps, life 10,000 h
Integrated operating hours counter signals timely lamp replacement
Simple maintenance by changing the tubes, no other wearing parts are present in the UVELIOS® 100
Simple plug and play system for conventional house network, at the push of a button, with immediate effect, ready for use
Available colors: Traffic white or traffic grey
Product features
Robust industrial housing
Ready to use delivery
Easy installation
Low noise emission
Long lamp life time
Efficient reduction of the airborne germ level
Media & Downloads
Want more in-depth information? Here you can access more detailed documents and files – simply click on the information you need and download it for further use.
Keith: 087 2911 265
Gerard: 086 602 77 27
Marie (Accounts): 087 952 8111
Office: +353 1 452 4838
Fax: +353 1 452 3688
Email: acselect@eircom.net